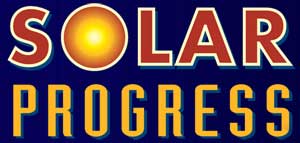 The ANZSES magazine "Solar Progress" has been published for over thirty years. The current and future editions are available to members on-line.
Here you will find news and articles about renewable energy applications, ideas and new directions.
Solar Progress - May 2008
In this issue:
The budget: commentary
The budget: the details
Trouble Brewing in Solar paradise?
Property Groups Unite to tackle climate change
100% solar bus in Adelaide
Desert Knowledge Australia partners with Alice Solar City project
Citizen based sustainable energy fund launched to stop global warming
Cultivating algae for biodiesel production
Renewable energy project using wave and tidal power underway in Tasmania
Honour for Monica Oliphant
More on ASRDH
To read this months edition, you need to become a member. Click here to join.