On-Line Magazine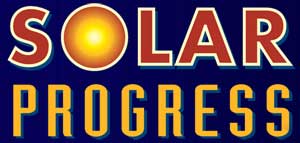 The ANZSES magazine "Solar Progress" has been published for over thirty years. The current and future editions are available to members on-line.
Here you will find news and articles about renewable energy applications, ideas and new directions.
The magazine is in two sections: freely available articles and those available to members only.
If you would like to browse through older editions, a selection of Back numbers may be found here.
ANZSES intends to develop a CD of back issues over the past ten years which will be available in our bookshop.
January 2008 Issue
In this issue
Review of Solar 2007

370.02 KB
World Solar Challenge Roundup

274.41 KB
Solar 2007 Alice Springs - The Annual ANZSES conference
Vale David Oppenheim
In November last year. David Oppenheim passed away. David was not only a prominent architect and pioneer of low energy buildings but a significant person in ANZSES. He was sometime Chairman and a very active member of the society.
Here, you will find two reflections on his life and work.
One of these refers to his extraordinary idea of using the Bolte Bridge in Melbourne to house a large wind turbine to power the Docklands area. The concept was used on the cover of Solar Progress.
View Bolte pdf

82.84 KB
Vale David Oppenheim

370.29 KB
Mega Watt output balloon engines to meet renewable energy targets
By Ian Edmonds, www.solartran.com.au
The concept of a balloon engine, mode of operation and elementary theory of reciprocating balloon engines that operate over heights of several thousand metres with thermal efficiencies greater than 5% is described. Preliminary performance and cost estimates for engines in the 50 kW to 0.5 MW range suggest the installed cost per unit power output is similar to that of other renewable energy systems and decreases with system size. As opposed to other engines there appears to be no inherent limitation on engine size. It is envisaged that the engines would be operated as summer peak supply units to complement wind turbines in a renewable energy supply system. ......................
.
Is South Australia leading the way in renewables?
It is sometimes claimed that South Australia leads Australia in the application of renewable energy. The statistics, particularly for installed wind capacity, certainly support the claim. Here we look at what might be driving the transition. ......

South Australia to reward consumers
South Australia to reward consumers with 44cent/kWh for solar electricity under new legislation passed in February .
read more

83.07 KB
Chlorination Of Swimming Pools Using Photovoltaic Power
By Kame Y. Khouzam
Chlorine is used in swimming and spa pools to control algae, kill bacteria and to oxidise organic matter. Photovoltaic (PV) power was applied to an electrolysis cell to produce liquid chlorine using a brine of sodium chloride. Proper sizing of the PV array and the electrolytic cell can provide excellent matching performance between solar radiation and chlorine load with little or no backup required. Using PV for salt-water chlorination is an effective way to semi-automate the input of chlorine into the swimming pool. If adopted, PV-based chlorinators promise a cheaper and cleaner alternative to mains power.......
You need to be a member to view this article. Click here to join.
Letter from Kevin Dobson on the economics of PV
click here

225.91 KB
Renewable Energy Courses in Australian and New Zealand Universities
By Chacko Thomas, Phillip Jennings and Bob Lloyd
Renewable energy is a rapidly developing industry and its growth is dependent to a large extent on the availability of skilled personnel to design, install and maintain systems. ...............
You need to be a member to view this article. Click here to join.
Lighting The World's Dark Places
Through his imagination and drive one man has brought renewable light into the lives of 100,000 people round the world. But Dave Irvine-Halliday won't stop till he's helped 1.6 billion. ..................................Read more

205.56 KB
ANZSES was at the Bali Meeting in December.
Mahalath Halperin Reports

17.28 KB.....
ANZSES Loses another friend
Click here

61.52 KB to read about Neville Jones
Masdar City
Abu Dhabi broke ground on Masdar City, the world's first zero-carbon, zero-waste, car-free city just a few weeks ago.
An essential driver for the development of the city is carbon finance. Carbon emissions reduced by Masdar City will be monetized under the Kyoto Protocol's Clean Development Mechanism.
Masdar will maximize the benefits of sustainable technologies, such as photovoltaic cells and concentrated solar power, through an integrated planning and design approach.
By implementing these technologies, Masdar City will save the equivalent of more than US $2 billion in oil over the next 25 years, based on today's energy prices. The city will also create more than 70,000 jobs and will add more than two percent to Abu Dhabi's annual GDP..........
read more

224.69 KB
Victoria's North Western Region
Victoria's Building Commission has recently undertaken performance audits in the North Western region of the state, with 81 per cent of new dwellings inspected listed to install either a solar hot water system or water tank....
read more

71.67 KB